Introduction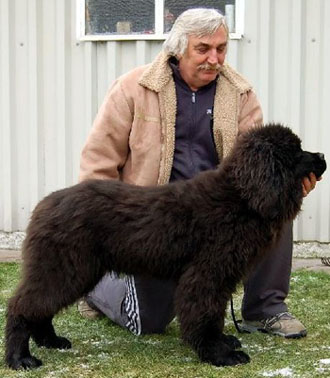 My name is Sándor Majoros, me and my family live in Jászberény (Hungary) about one hour drive from Budapest.

I'm working for Electrolux as a production leader for a 35 years.

The love of the animals is a very important thing in my life, in the 90's i saw a big black dog sledged with a boy
on the street, and that moment I fall in love the newfoundland breed and I knew this breed will be an important part in my life.

Later we became friend with the owner of the dog, and he gave me a puppy in 1995.
She was Gina our first newfoundlander. She was living with us 10 happy years.
When she passed away we decided to have newfoundlander again, who is represent the breed and good enough for showing.
After a long search we pick Life Blood Beautiful Ketty aka Alma, doughter of Carlos and Uncsa (Unica Foundland). Our house was full with fun again. Few months later we provided a home to Uncsa.
This was the foundation of our kennel : Stuffed Shirt Ketty

Alma was succesful in the showring so we decided to breed with her. We were looking for a best male for her, at last we found Jolly Roger De Saint Felicien, Skippy's son. I think he is a real newfoundlander, he has excellent size and body, muscles, and charachter.
In 2007 two puppies were arrived : Amigo From Stuffed Shirt Ketty (Csubi), and Adonis From Stuffed Shirt Ketty (Vini). I think sometimes the less worth more
The puppies weight were 80dkg and since today only the practised eyes can make a difference between them.
Csubi went to a very enthusiastic young owners. I'm sure we will hear about him!
Vini still live with us, He is 2 years old and he has delivered many good results and never brings shame on his grandfathers Carlos and Skippy and his father Góliát.
He has HPJ, 4x CAC, CACIB, 3xBOB, and the most important things : he always attract the audience's eyes with his size and shape and sound movement and last but not least with his gentle temperament and friendly character.
Of course there are a lot of very nice dogs all around , but our Vini is the real "beardog" and a superb specimen of his breed.
Our dogs are living with us as a family member, we keep them in the garden not in the cage. All day they are together ( Uncsa, Alma and Vini) and very often we go out to walk with them.
For us our dog's health, personality and balanced life are more important than the their show results.
We are always happy to share our thoughts about the newfoundland breed and welcome visitors.